---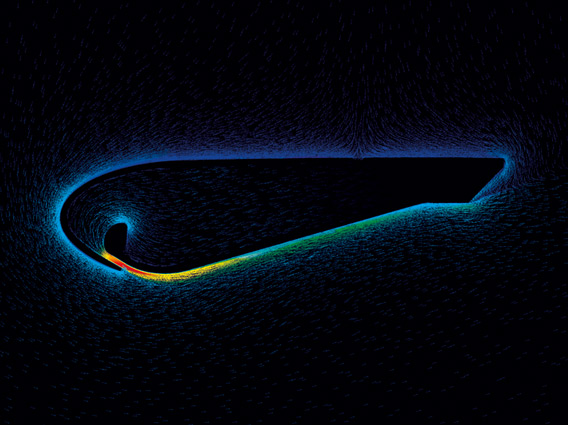 ---
Air Multiplier™ technology development
Electric fans hadn't changed since they were invented in 1882. Different materials, new buttons and the addition of grills, but still the same problem – the blades chop the air before it hits you. That's why they cause unpleasant buffeting. Take the blades out, and the buffeting stops. But how can a fan work without blades?

Dyson engineers started with pressurized air, forcing it through narrow apertures to create jets. But they needed it to be more powerful to work in a fan. The breakthrough came when they noticed that accelerating air over a ramp amplified it by 10 – 20 times, drawing in surrounding air through processes known as inducement and entrainment. Hundreds of iterative tests revealed the ideal ramp angle, aperture width and loop amplifier dimensions.

Then came the problem of air intake – the motor had to suck in more than 20 litres of air per second to generate a powerful enough jet. A 3D impellor was required. Its nine asymmetrically-aligned fins have rows of tiny holes to reduce the friction caused by colliding high and low air pressure – birds of prey balance air pressure around their wings in a similar way.

The smoothness of the resulting airflow was tested and proved using an optical technique called Laser Doppler Anemometry. Millions of tiny particles projected by the fan reflect thousands of readings a second, plotting air speed and direction.

One engineer had the original idea. But it took every discipline from Dyson's 350-strong team of engineers and scientists to develop Air Multiplier™ technology.
Related articles
---
---
---