Captures more dirt than any other cyclone technology
Dyson Ball™ canister vacuums have the latest Radial Root Cyclone™ technology. The airflows have been remodeled to maximize suction power. Dyson cyclone technology captures more dirt and microscopic dust than any other. With no loss of suction.
Follows smoothly, turns on the spot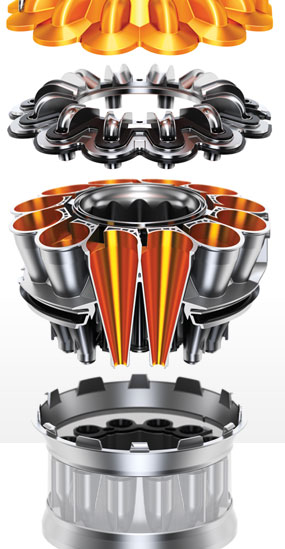 ---

Why bagged vacuums lose suction.
As soon as you start to use a bagged machine, tiny pores in the bag clog with dust and block the airflow. This causes suction to fade and dirt gets left behind.
Bagged machines also require replacement bags. This adds extra running costs and creates waste.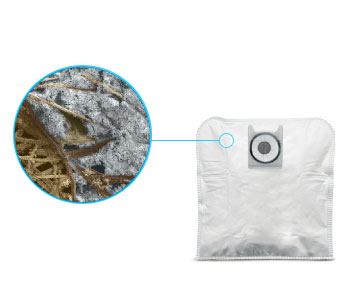 Why Dyson vacuums don't lose suction.
Dyson's patented Root Cyclone™ technology doesn't rely on a bag to trap dust and dirt. Instead, centrifugal forces of up to 313,000G fling dust and dirt from the air. Suction remains strong.
And with no bags to replace, there are no extra running costs or wasteful consumables.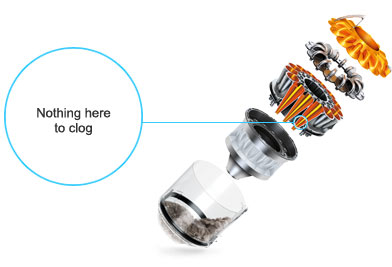 ---

Hygienic bin emptying
The bin empties with a push of a button, minimizing risk of contact with dirt. The bin itself is made from high-impact polycarbonate for toughness. It's clear so you can see when it needs emptying - and how much dust, dirt and pet hair the machine has captured.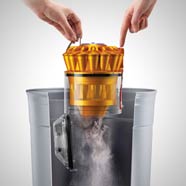 Tangle-free Turbine tool
DC39 Animal comes with the Tangle-free Turbine tool. It's the only turbine tool that doesn't tangle. Counter-rotating heads with brushes remove hair from carpets and upholstery. There's no brush bar for hair to wrap around.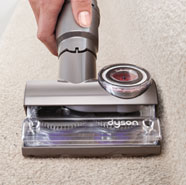 Turns on a dime
With Ball™ technology and a central steering mechanism, DC39 steers smoothly around obstacles. The low motor position provides a low center of gravity - maximizing stability. A smooth chassis profile means there are no rough edges to catch on carpet pile.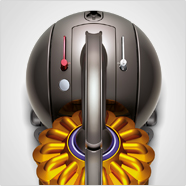 Triggerhead tool
DC39 comes with a Triggerhead tool. It's the only turbine head controlled at the handle - there's no need to bend down and adjust when moving between floor types. A powerful rotating brush bar cleans carpets - push the trigger and it switches off to protect delicate rugs and hard floors.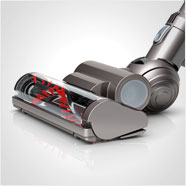 ---

Radial Root Cyclone™ technology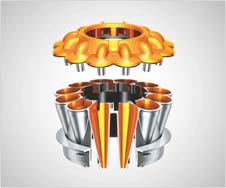 Patented Dyson cyclone technology with airflows remodeled to maximize suction power.
Ball™ technology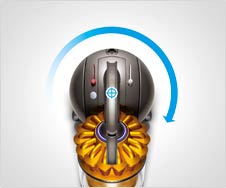 The only canister vacuum cleaners with a central steering mechanism for greater control. Turn on a dime.
No extra costs and 5 year warranty.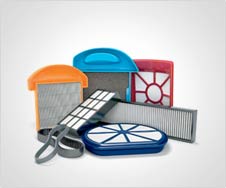 Washable filters and no bags to buy. Parts and labor are covered for 5 years.
Captures allergens, expels cleaner air.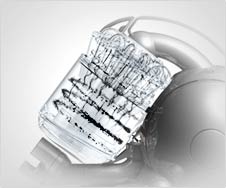 Dyson cyclones capture microscopic particles including pollen, mold and bacteria.
---