Turns on a dime
DC41 Animal rides on a ball, which pivots on the spot so you can steer with a turn of the wrist. The ball also houses core technology, including the motor and ducting. There's less clutter, so it's easier to clean into awkward spaces, along edges and around furniture.
DC41
---

Automatically self-adjusts for floors and carpets
The cleaner head on DC41 Animal self-adjusts to maintain optimal contact as you move across hard floors and carpets, reducing air leaks and giving more suction power. The active base plate rises and lowers to set the optimal cleaner head and brush bar configuration for every floor type. No bending down, no awkward dials to adjust.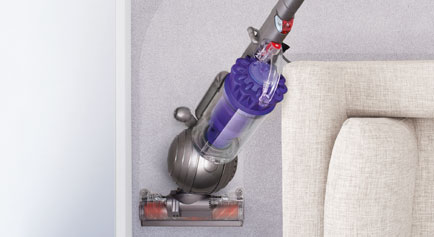 Easier access to difficult places
DC41 Animal lets you clean closely around furniture, with less pushing and pulling. The ball houses many of the machine's core components, including air ducts, motor and filter. There's less clutter around the ball and a lower center of gravity, so you can steer in closer to obstacles.
The pivot angle also allows you to steer into awkward corners with ease. The cleaner head retains full contact with the floor, maintaining suction power as you pivot around tight corners, or recline the machine.
---

Instant high reach wand
DC41 Animal has a built-in hose and telescopic wand that can be pulled out in a single action. The wand and hose are engineered to extend to conveniently clean stairs and high places. Tools click-fit to the end of the wand or hose, giving more cleaning options for hard-to-reach places.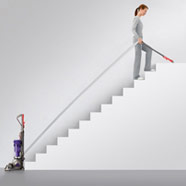 Lightweight and durable
DC41 Animal is made from modified blends of materials selected for strength, flexibility and tolerance. Many parts are made from polypropylene reinforced with glass fibers and high-impact PC-ABS. Using these materials means greater strength from less plastic – so the machine is lighter.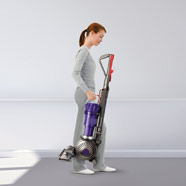 Push button bin emptying
Minimizes risk of contact with dirt. The bin itself is made from high-impact polycarbonate for toughness. It's clear so you can see when it needs emptying – and how much dust, dirt and pet hair the machine has captured.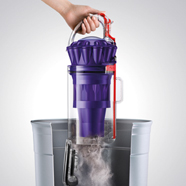 Tangle-free Turbine tool
DC41 Animal comes with the Tangle-free Turbine tool. It's the only turbine tool that doesn't tangle. Counter-rotating heads with brushes remove hair from carpets and upholstery. There's no brush bar for hair to wrap around.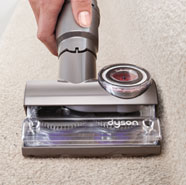 ---

Radial Root Cyclone™ technology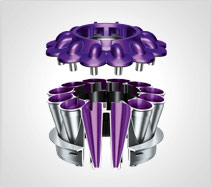 Patented Dyson cyclone technology with airflows remodeled to maximize suction power.
Ball™ technology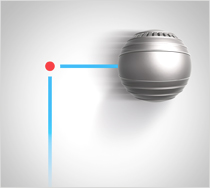 Steers smoothly with a turn of the wrist. Easy access to awkward spaces.
No extra costs. 5 year warranty.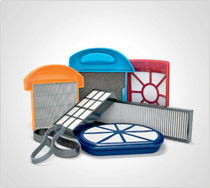 Filters and belt last the lifetime of the machine. No vacuum bags to buy. Parts and labor are covered for 5 years.
Captures microscopic particles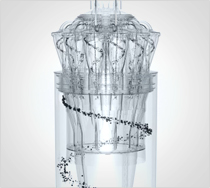 Dyson cyclones can capture microscopic particles – including pollen, mold and bacteria.
---